Increasing demand for protection teams and insurances that also cover… ransom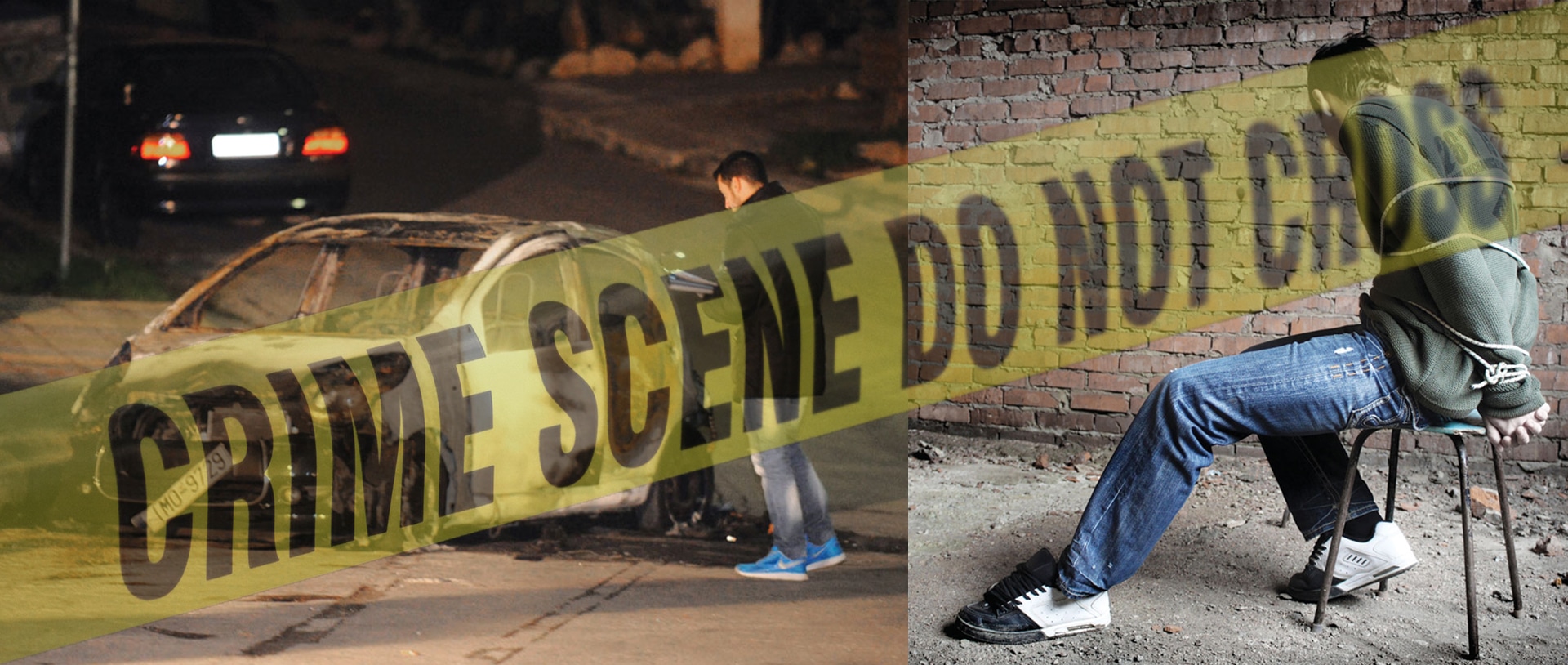 During the last few years, kidnappings have become one of the burning security issues in Greece. From 1990 to today, dozens of kidnappings have been recorded. We will talk about some of them, most of which have been successful on the aggressor's part. In some cases, the kidnappers ended up arrested by the police (consequently the authorities consider their investigation and its outcome as positive). Nevertheless, we seem to be forgetting one important thing. The attempt had taken place with serious consequences for the victim, both physically and mentally, not to mention the financial aspect of the crime.
Shocking Kidnappings
Let's go back to some characteristic incidents that shocked the entire country when they happened.
1990: Giannis Tsatsanis, a 17-year-old Roma football player was kidnapped in Agia Varvara. The case was given the moniker "Marselino", because it was the nickname of the victim. It is considered the first kidnapping in which ransom was asked and ended tragically. Three months later the victim was found dead in the village of Skourta in Biotia. Charges were brought against six people, the victim's cousin amongst them. Six months later, one of the kidnappers who had fled abroad was found dead.
1991: Two unidentified suspects kidnapped the 14-year-old Belgian Tamar Oscanian, daughter of a precious gems trader, from the family house in Porto Rafti. The kidnappers rendered the nanny unconscious, kidnapped the girl and then asked for two million dollars in ransom. In the end, they let the girl go without receiving any payment, whilst the nanny eventually died while in the hospital.
1995: 11-year-old Konstantinos Dalakas was kidnapped on his way to school in Anavissos and was released four days later, after the kidnappers received 41 million drachmas. Following investigation, it was revealed that the child's aunt had disclosed to her accomplices that his grandmother had won millions in the lottery. This case was the first time that a bounty of 200 million drachmas was announced on the kidnappers.
1995: The owner of the company "Makedonikos Chalvas" Alexandros Chaetoglou was kidnapped on the 20th kilometer of the national road from Oreokastro to Thessaloniki. He was stopped at gunpoint and transferred into another vehicle which they used to move him around for an entire day. Chaetoglou was set free at the intercity bus terminal in Karditsa, three days after his brother paid 260 million drachmas. The Paleokostas brothers and Pavlos Keremides were charged for the kidnapping. Keremides died during a shootout with the police.
1996: As Zeta Koukea prepares to get out of her car and walk towards her house in Neo Psihiko, two armed men showed up and ordered her to sit on the passenger seat and not to shout. They got in the car and headed off to an unknown destination. Somewhere along the route the third accomplice got in the car and they later made the phone call to the French teacher's father demanding ransom. In the end they settled with 50 million drachmas instead of what they had initially asked, whereas it was later revealed that one of the kidnappers was an associate of the victim's father. The victim was kept in a hideout 30 minutes away from her house.
1996: While Michalis Metaxas, the son of Nikos Metaxas, the major hotel owner from Crete, was walking towards his Jeep, he was attacked by five armed hooded men who demanded from his wife 1 billion drachmas for his release. After four days of negotiation they agreed on 50 million drachmas and Metaxas was set free.
1996: Third kidnapping in one year. Diamantis Tsabazis, the son of a major building contractor from Thessaloniki was abducted. The perpetrators, an Albanian man and his three accomplices asked for 300 million drachmas as ransom, but accepted half of that and released the young man (who had already been moved to Albania) at a beach in Corfu 19 days later. It was later confirmed that one of the accomplices was aware of Tsabazis' financial situation, because the victim was a regular customer at the gas station where the kidnapper worked.
1997: "We have the package. We want 120 million to return it to you". That's what the kidnappers of 6-year-old Eleni Loulaki told her father, a car dealer. The little girl was abducted outside her private school in Hereaklio, Crete. Charges were brought against the principal of the school and two of her accomplices.
1998: The kidnappers introduced themselves as florists to 18-year-old Giorgos Peristeris and right as they were handing him the bouquet, they grabbed him from his house in eastern Thessaloniki. They asked from his architect father 70 million drachmas and eventually settled for 44. The criminals were arrested by the police during the drop off and it was revealed that one of the kidnappers was a construction worker who worked with the victim's father.
2001: Giannis Zonas, a businessman, was abducted by two unidentified men and released 64 days later, after the kidnappers received three million dollars. The businessman had been held in a rented house at Spata that was emptied after his release.
2002: In Thessaloniki, as Chazakis was taking his 6-year-old daughter Markella to school, the criminals caused a traffic accident, grabbed the girl from inside the car and forced a female driver to hand over her car. They got in and disappeared. In the end they were located by their cell phones, they were apprehended and the little girl returned home. A 23-year-old man was charged for the kidnapping. He was working as a waiter close to one of the Chazakis family stores.
2005: Diamantis Masoutis, the owner of a super market chain in Thessaloniki, became victim of a robbery with hostages. Two men impersonating police officers rang his doorbell and told him that they had documents to hand over to him. When Masoutis opened the door, the attackers tied him and his wife and demanded one million euros. In the end the financial director of his business gave the criminals 300.000 euros, got tied up too and the attackers left unhindered.
2008: Three armed men kidnapped G. Milonas, the president of the Northern Greece Industrialists Association and president of the Alumil company, while he was returning home at Panorama, Thessaloniki. The attackers laid in ambush at the driveway of Milonas, where they kidnapped him, but let his wife go. His luxury vehicle was found parked at a mall parking garage and inside the car his cell phone and his watch. 13 days later, his kidnappers set him free. The marked bills that were used for ransom (over 10 million euros) were spotted in Crete, when a 40-year-old man tried to buy a luxury 4 wheel drive vehicle using the ransom money. Two months later, the brains of the operation Vasilis Paleokostas and four more of his accomplices were also arrested.
2009: Businessman Pericles Panagopoulos gets kidnapped. The perpetrators let him go 13 days later, after the sum of 30 million euros was given as ransom. The Hellenic Police arrested 18 people several months later.
2011: A group of kidnappers abducted a 61-year-old jewelry maker outside his home and led him to an area of Mandra, Attica. During the kidnapping, the perpetrators telephoned the family and demanded money and gold bars in order to release the man. In the end no ransom was paid, because the victim managed to escape, when he found the opportunity.
2011: A 71-year-old jewelry maker was kidnapped as he was approaching his house in a western Attica area. Two men in hoods immobilized his car in the middle of the street, broke the windows and kidnapped him at gunpoint. Telephone contacts with his family ensued. The victim was set free on Christmas Eve in the area of Aspropirgos, after the kidnappers received part of the demanded ransom.
2012: Five attackers immobilized the 32-year-old son of a waste water and precious metals treatment plant close to his house. In an area of west Attica they moved him to another vehicle after abandoning his at the site and transported him to Aspropirgos, to a building belonging to one of the perpetrators. In continuation, they contacted the victim's family and demanded gold as ransom. The victim was set free after part of the ransom was given.
2012: Unscrupulous kidnappers attempted to abduct the 7-year-old child of a 35-year-old woman and she convinced them to leave the child and take her instead. She was held for over 25 days in a car that was covered. Initially they asked for three million euro and 30 kilos of gold. The victim was the co-owner of a moving company. In the end she was set free after 346.500 euros were given in cash.
2012: A 15-year-old student was abducted from school in front of his classmates. He was the son of a National Bank branch manager. The kidnappers contacted the family and asked multiple millions of euros in ransom. While police from Athens rushed to the area in order to coordinate efforts, late at night the boy himself contacted his family and let them know where he was being held. The father of the boy followed instructions that led him to Drosia, Evia, where he found his son unharmed. The ransom was never paid to the kidnappers.
2013: Attempted kidnapping against the son of a known ship owner in Kavouri. 33-year-old Andreas Ioannis Martinos, of Minerva-Marine, managed to escape. The 33-year-old had left his company and was headed towards Kavouri. At some point he realized that a truck and a car had boxed him in. All of a sudden, the truck stopped and four armed men got off. Uninhibited, the young ship owner hit the gas and managed to escape by shifting to reverse. He hit the other car, which burst into flames.
Prevention and safety measures
Hellenic Police officials emphasize the prevention of kidnapping, promoting safety measures that should be taken by the possible "victims" themselves. In a very discreet way, the police suggest what goes without saying: security detail, in order to deter similar incidents.
It is worth mentioning that if there were at least one protection escort (on top of the possible driver) who had been given the proper training, it is certain that in most cases the kidnappings would have been prevented.
Furthermore, police experts gather the attempted kidnapping of Kikos Martinos is not related to the kidnapping of M. Karamolegos, since the actions of the latter's kidnappers reek of amateurs, whereas the attackers of Martinos seemed more experienced.
The good news is that after the last two incidents (Kikos Martinos and M. Karamolegos), more and more businessmen hire security teams in order to protect their families. At the same time, many of them adjust their insurance policies so as to include "kidnapping and ransom" coverage.
During the last few years, dozens of companies in our country have added an insurance plan that had, until recently, been foreign to Greek standards. It is titled "Kidnapping and ransom". There was no way that Greece could have escaped the general international rule.
Insurance policies for… ransom!
The demand for insurance plans on kidnappings has shown a 20% increase worldwide from 2006 to today. The cost of such a plan starts at a few thousands of euros or dollars per year and can reach unthinkable amounts of money of over one million dollars, if the subject is a multinational company.
As far as these plans are concerned, there is only one rule and it never fails: "Tell no one. No one should ever know that you have signed such a contract". This is what experts of the field advice. Why? Because it is very possible that these contracts will lead to a new wave of kidnappings, since now insurance coverage is offered.
According to a study by John Rose, the president of Travel Guard Business, approximately 15.000 to 20.000 kidnappings and extortions take place every year around the world. Rose suggests that "this number is possibly significantly larger, because it is estimated that only 35% of abductions worldwide are being reported to the Authorities".
Ominous predictions
A few months ago, a report on Reuters by Jamie Scudder an insurance consultant with Maplecroft, made a sensation. Scudder stated: "With an unemployment rate of 27%, Greece is more and more at risk of increased kidnappings". According to Scudder, our country is susceptible to abductions "because of its financial problems, its proximity to eastern Europe and its poorly guarded borders".
Statistically, when it comes to kidnappings- it's not an exaggeration to say that some insurance consultants have specialized in that- Greece, as a Mediterranean country does not exhibit a large number of kidnappings. It is definitely not like Italy. However, the trend that's forming, in combination with the fact that the financial divide has broadened dangerously by eliminating the middle class and increasing the poorer parts of the population, make the people in law enforcement worry. One of the multinational insurance companies working in Greece that also provides plans for "kidnapping, ransom and extortion" states that "the number of private people and families that have become targets of criminal activity in the last few years has increased. Whereas in the past the threat of kidnapping was a risk for highly recognizable or especially wealthy people, it now affects a larger number of people. It is estimated that every year 30.000 private people, amongst whom children, get kidnapped around the world and incidents are now even more frequent in Greece too".
In addition to that, the police remind us that notorious criminals that have committed similar crimes in the past are still free. They are referring to Vasilis Paleokostas, who had kidnapped businessman Georgios Milonas in Thessaloniki in 2008.
Advice to avoid kidnappers
We saved for last a few easily understood, but very important and approachable suggestions, in order to avoid similar incidents, or at least to avoid the least professional ones. The main one is "prediction, deterrence, escape".
Threat recognition: The notion of threat is magnified in a framework of financial crisis. Be careful when announcing a business' profits and important deals. It immediately increases the risk, it alerts criminals about us and makes us a "possible target". Needless to say, the announcement of a company's profits or the general wealth cannot be hidden. Nevertheless, it is important to realize that from now on the chances of problems occurring increase exponentially.
Situational awareness: What the Americans refer to as "situational awareness" is a notion that many people overlook, but it is fundamental. Constant awareness of the space in which we move at any given time is a very significant weapon in our arsenal against unpleasant surprises. Always be on the lookout for blind spots and always maintain a high security level, no matter where we are. We never completely drop our defenses. It is easy to understand how significant it is to constantly check and scan people that surround us.
Alternative route: One basic element of protection is the continuous but irregular alternation of routes. This means that we have a choice between at least two different routes for our everyday travel. As much as possible, it should be routes without traffic lights or choke points that can become ideal locations for ambushes from criminals. In case a meeting outside the office is arranged, it is essential that the route to and from the meeting point is checked so that an "escape plan" from its "dangerous" points is drawn up.
Deterrence plan: By always having an alternate route and being situationally aware, even if something does happen along our chosen route, we have a deterrence plan in place, in order to throw off the attackers. This will buy us a little but precious time to escape. It is worth mentioning that the more powerful our vehicle is the more likely it will be to escape. Needless to say, our skills in driving also play a critical part.
All the above are some, not all, very important suggestions. Unfortunately, if we have become the target of professional criminals that have the knowhow, a good plan (which requires a considerable amount of time, months sometimes) and equipment, the only thing to be done so as to avoid serious attacks is to ask for help from the experts. They will assess our needs and the risk on ourselves and our family, so that a team of stationary guards and personal escorts is chosen. Their mission will be the implementation of the abovementioned measures as well as of other tactics such as counter-surveillance, with the goal to prevent and deter the attack without ever having to face it. They would basically deprive the criminals of the ability to make us their target.
Management plan
For a security team, part of preventing means also preparing for the worst.  Even the best trained team, even the most disciplined team cannot foresee and cover at 100% the location and the time that a kidnapping might occur. It would be false and delusional on our part to say this. This is why it is of critical importance to carefully plan ahead all the measures that need to be taken in order to protect our VIP, his family and his business, should the worst happens.
In case of a crisis, such as kidnapping, the first few hours are the most critical. In order to react correctly, an adequate crisis management plan should already be in place and immediately activated as soon as the crisis emerges, in order to avoid mistakes and not waste precious time. All actions taken after this point, depend on each specific incident and are, understandably confidential, due to the subtle management required.
The crisis management plan is the indispensable guide containing the tools and the techniques to be used by specialized personnel in order to deal with a crisis.
As a conclusion, a simple sentence that carries within it the most important message:
Don't be a "soft target"
by Nikolaos Papadopoulos
Journal security report May 2014 *No 30